It's that time of year again when we start thinking about sending lots of Christmas gifts to loved ones near and far. With all the hustle and bustle of the holiday season, it's important to plan ahead to ensure your gifts arrive in time for the big day. And let's not forget about businesses who need to get their products to customers in time for Christmas! ​
At DHL, we understand the importance of timely and reliable delivery, especially during the busy holiday season. That's why we're here to help you stay connected with your friends and family by taking the stress out of sending gifts this festive season. We give you end-to-end tracking for complete peace of mind. All you must do is add these key sending dates to your calendar.
DHL'S LAST SENDING DATES FOR CHRISTMAS 2023*
United Kingdom: 20 December
Europe (EU and Non-EU): 19 December
USA, Canada and Mexico: 19 December
Rest of world: 18 December

THREE EASY WAYS TO SEND YOUR PARCEL WITH DHL EXPRESS
1. Drop your parcel off at a DHL Service Point near you
You can drop off your parcels at one of over 1,200 DHL Service Point locations on high streets and in retail parks across the UK for your convenience. Find your nearest DHL Service Point. To save time in store you can complete your shipment details online, once you're in-store, pick a free box or envelope of the right size, pack your items and pay. No printing, weighing or measuring as the pricing is determined by the size of your box and the destination that you're sending the parcel to - size and price guide.
2. Book a collection online with DHLitNow
You can book a collection and pay for a collection online and one of our couriers will collect your parcel from your home or office. Book a collection now. Own packaging and printer is required.
3. Book a collection over the phone
Call our team to book and pay for your collection over the phone and a DHL courier will collect your parcel from your home or office. Own packaging and printer is required. Call 0844 248 0828**

Get an instant quote to compare between DHL's three sending methods, then choose the best option for you. You can track your parcels from pick-up to delivery online or via WhatsApp Chat (WhatsApp calls are not currently supported).
SENDING GIFTS THIS CHRISTMAS?
At this time of year, we see an increase in prohibited items such as cash, perfume, aftershave, power banks, and Christmas crackers. Please check what you can and can't send with DHL as parcels containing prohibited items will be stopped. Read more on sending Christmas gifts.
ACCURATE CONTENT DESCRIPTIONS ARE CRITICAL TO AVOID CUSTOMS DELAYS
Your content description should answer these three questions:​
What is it? What is it made of? And What is it for? Find examples of good content descriptions in the "acceptable" column below.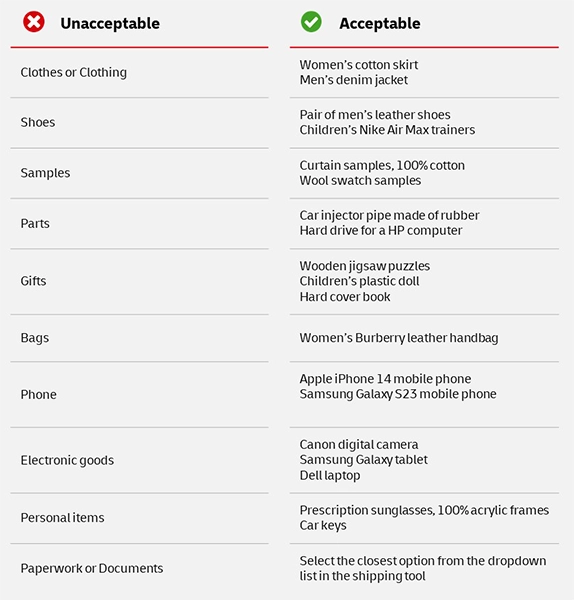 Read more on providing accurate content descriptions to avoid delays.
* Please note that all dates are DHL recommended but deliveries are NOT guaranteed and are subject to DHL's Terms and Conditions of Carriage. Deliveries to remote destinations may take longer.
** Calls to DHL UK phone numbers beginning '084' cost 7 pence per minute, plus your phone company's access charge.