Adding another feather to its sponsorships cap, DHL is proud to be serving as Team GB's Official Logistics Partner for the Sochi 2014 Winter Olympic Games. And to show our support, we were delighted to help out at Team GB's Kit Out last month.
Six wonderful DHL volunteers worked hard at shifting 150 pallets, including 20,3000 units of kit at the Adidas centre in Stockport, ready to be distributed to 110 athletes ahead of their Sochi tour. There was a lot of excitement behind the scenes. We spotted some prominent people at the Kit Out who also came to lend their support. English sprinter and bobsledder Craig Pickering made a special appearance at the Adidas centre, whereas DHL Express UK & Ireland CEO Phil Couchman, and Olympic Curling Gold Medallist Rhona Martin visited the DHL Logistics Centre to see how the kitting out was coming along.
Below is a selection of the Team GB Kit Out pictures: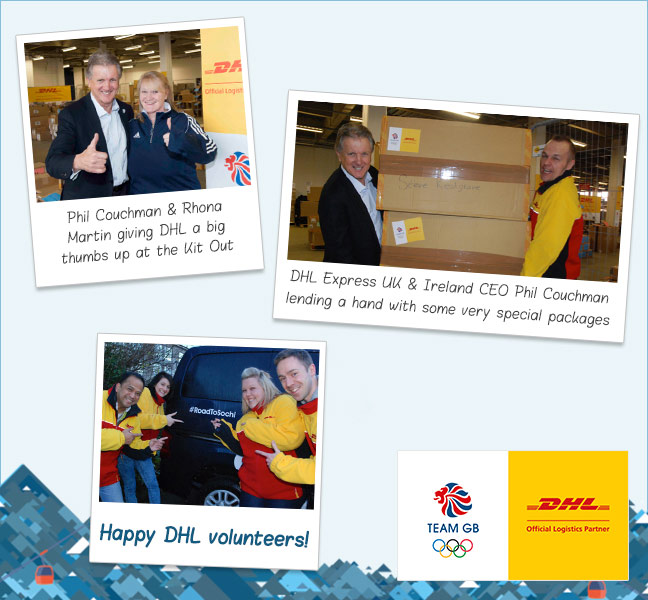 And here's an infographic highlighting our time spent at the Team GB Kit Out for Sochi 2014 Winter Olympics: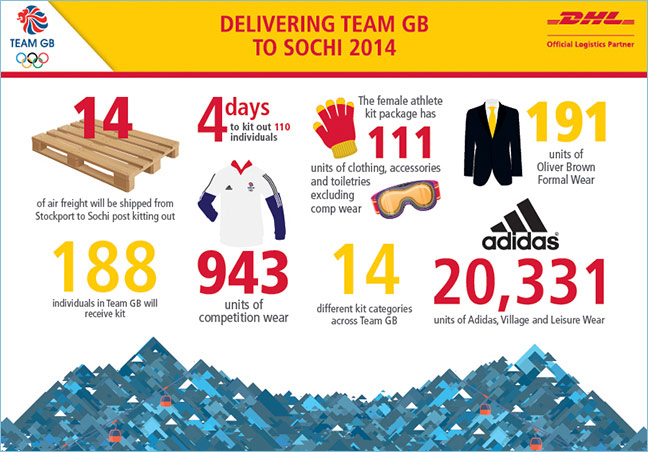 To see more pictures of the Team GB Kit Out and for further information on our commitment to delivering successful partnerships, whatever it takes, please visit us on Facebook.
For an exclusive behind-the-scenes look at the action from DHL's kit out event with Team GB ahead of the Sochi 2014 Winter Games, please watch our video.