We were delighted to bring together Harlequins Rugby Union and Cirque Du Soleil, two high profile DHL partners, for a day at London's Royal Albert Hall to talk training and performance.
Harlequins Rugby Union players met members from the Cirque Du Soleil cast to find out what elite sport and artistic performance - two very different disciplines - have in common in terms of preparation, training and lifestyle. Members of the Harlequins team also attempted some of the Cirque cast's signature moves so they could find out for themselves what kind of skills they need to execute these high-risk artistic performances.
Harlequins players Luke Wallace, Ugo Monye, Joe Trayfoot and Nick Evans first started on the practice 'low wire' where they were taken through the importance of balance and core strength by resident high wire artists Angel, Roberto, Vincete Quiros and Brayan Sanchez. Ugo and Joe did well, and Nick managed to cross the whole length of the wire. But Luke stole the show by completing several lengths of the wire including mid-wire turns!
The players were then put through their paces in hooping with Irina Akimora, who showed them how it's done by spinning seven rings simultaneously. All four players made enthusiastic attempts, but Nick's hips (more often seen shimmying past defenders!) deserve special mention: the fly-half is clearly equally at home on the stage of the Royal Albert Hall as he is at The Stoop!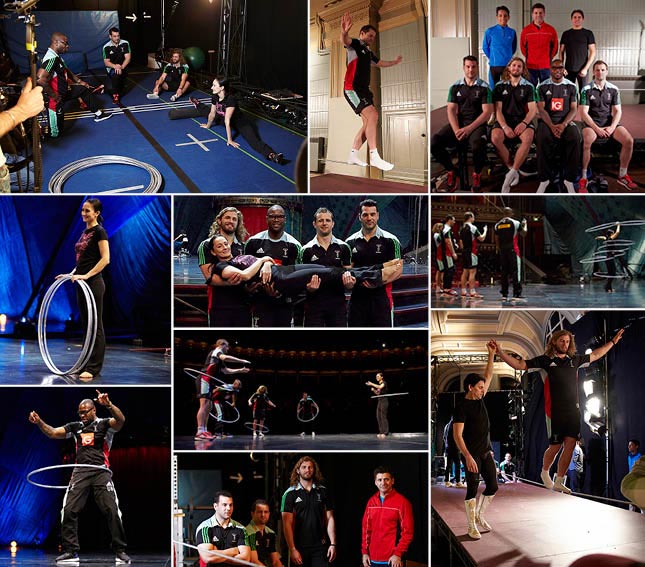 The session finished with the boys showing the KOOZA artists their own skills with a rugby ball and exchanging throwing techniques for their newly acquired circus talents.
Ugo said: "It was really insightful to be able to see the parallels between the two disciplines of acrobatics and rugby whether it is dealing with nerves before performing or not making mistakes when the stakes are high. Thanks to DHL for a great day."
Watch the Players vs Performance video to see how Harlequins players attempted some of the Cirque cast's signature moves.